Today, Shelly Brown is hosting a blogfest.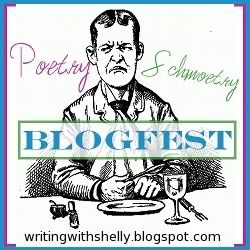 There are lots of cool people participating and it's not too late to sign up. Just go to
her blog
or click the picture above. You can also find the list of other participants and the rules there.
I wanted to post a couple of poems today, so bear with me. It's kind of the evolution of poetry in my life, as you can probably tell after reading.
First: a high school poem.
ODE To a SMELL
What foul stench is this?
She cried in agony.
I cannot quite figure
Why this smell bothers me.
Why do I have to
Smell this all day?
Why can't this taste in my mouth
Go away?
There must be some reason
Behind this foul smell.
If I knew what it was,
Maybe you, I could tell.
This smell is invading my thoughts
Like some toy.
I figured it out.
This smell belongs to a boy.
Here's an entry from early college:
Moonrise
Peeking gracefully
from her bed of day,
she casts silvery fingers
across a chariot of clouds.
One by one,
the stars
align themselves
as horses to draw her
across her shadowy realm.
Like a swan,
she spreads her wings of light
through the blue-black
lake of the sky
and begins her
solitary journey
through the night.
And here's my most recent offering:
Fog
to silently caress her face.
Shrouded in his mystery,
she shivers until the sun
uncovers this tender moment,
erasing every trace
in a shining, sparkling explosion,
until only a memory is left.
And there you have it. There's tons of angsty teenage poetry that I could share, but really, who wants to read all that "love is awful", "I'm so lonely", "why don't I have friends" stuff any way? Except me. And I laugh a lot while I'm reading it.
So friends, do you have any poetry hiding around? What do you like (or maybe dislike) about poetry?